Preludes and authentic Christmas market in Kaysersberg
An authentic Christmas market
In the heart of the imperial city of Kaysersberg, the flavours of gingerbread or mulled wine will awaken your taste buds, your eyes will be wide open in front of the bakers' and pastry chefs' stalls, filled with bredalas (Christmas cakes) with nuts, almonds, chocolate, dry fruits…
You will be charmed by this sweet and intimate setting while wandering around the 30 wooden chalets from the Christmas market, in the heart of the historical center of Kaysersberg. The craftsmen, scrupulously selected by the members of the Association de Noël à Kaysersberg (Organization for Christmas in Kaysersberg), welcome you and offer you their original and handcrafted creations : wooden toys, decorations for your Christmas tree, blown glass objects, jewels, lamps...
You will have choice when it comes to finding your Christmas presents. Adults will recover their children souls, filled with distant memories.
Our advice : at dusk, when the atmosphere is magical, it is the best moment to discover Kaysersberg and its numerous activities at Christmas time.
Dates and times of the authentic Christmas market
The authentic and artisanal Kaysersberg Christmas market usually welcomes you during the Advent weekends on Fridays, Saturdays and Sundays, from 10am. to 8pm., in the Cour de l'Arsenal and behind the Sainte-Croix church. The list of the Kaysersberg Christmas market exhibitors is here. Dates 2022 of the Christmasmarket  : 25th, 26th and 27th November, 2nd, 3th and 4th December, 9th, 10th and 11th December, and from 16th to 20th December. Health pass and mask required.
Click here for more information.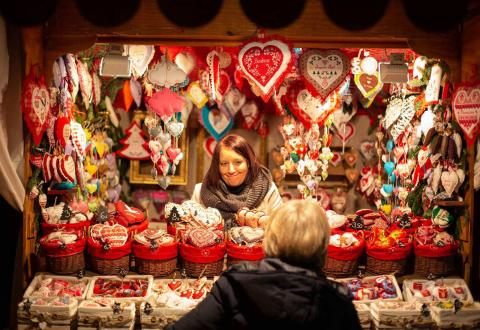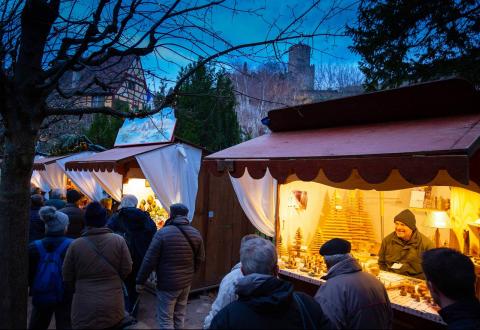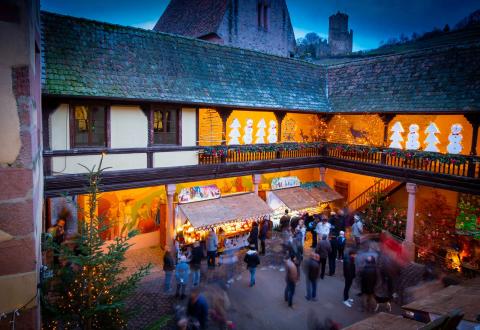 An authentic Christmas market, but not only !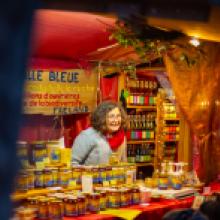 The farmers' market of the valley producers
If you like tasting regional specialties, this small market is dedicated to local producers. Gourmets will fill their baskets with a variety of local foods : aromatic herbs, syrups, herbal teas, foie gras, terrines, cheese, gingerbread, organic wines, fruit juices : Nothing but good products to delight your guests during the Christmas or New Year's holidays. Dates and times are identical to those of the authentic Christmas market. Health pass and mask required. You will find the list of the farmer's markets exhibitors here.
Click here for more information.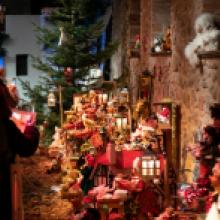 The Christmas exhibitions 2022 : "toys of yesterday and today"
At Christmas, I play!
Toys by the thousands, as Tino Rossi sang so well! 
Stuffed animals, dolls, cars, dinettes, games, enough to turn the head of our dear young heads.
Old wooden or metal toys that our parents and grandparents used to play with. 
Put away your cell phones for an enchanted interlude and let yourself be carried away by the magic of this fairy world that those under twenty years old cannot know.
Animals are not allowed in the Arsenal room. 
Come and admire the meticulous and original work of the creators. These artists are not lacking in imagination to personalize their objects: patterns, colors and materials are the precious and necessary ingredients for the creation of traditional Christmas toys.
From 25th November 2022 to 31th December 2022, everyday from 2pm to 6pm, and during the week-ends of the Christmas Market (friday, saturday and sunday 10am to 8pm). Health pass and mask required. The exhibition is closed on 25th and 26th December.
Click here for more information.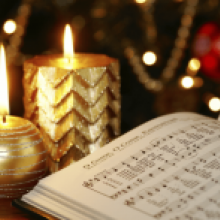 Christmas concerts
In addition to Christmas markets and exhibitions, Kaysersberg also offers a concert program every Advent Sunday in the Sainte-Croix church. Health pass and mask required.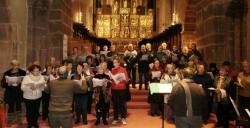 Christmas Concert : Concert - Veillée de l'Avent - Choir Ste Cecile
Sunday, 28th November - 4pm - Ste Croix Church in Kaysersberg 
Come and attend the concert of the Sainte Cécile de Kaysersberg choir, made up of about twenty singers with a passion for singing, whose varied repertoire offers traditional Christmas songs in 4-part polyphony: liturgical, classical and variety.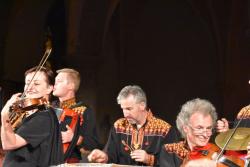 Christmas concert : constellation des carpates
Sunday, 5th December 2021 - 4pm Ste Croix Church in Kaysersberg
Come and vibrate to the sound of the melodies wonderfully interpreted by the Ukrainian musical ensemble "Constellation des Carpates".
A true Slavic musical interlude, marked by classical and popular works, to the sound of Ukrainian, Russian, Yiddish and gypsy music and song.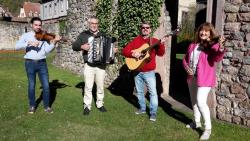 Christmas concert : concert ensemble instumental Quatuor d'accords
Sunday, 12th December 2021 - 4pm - Ste Croix Church in Kaysersberg 
Traditional and contemporary Christmas songs wonderfully interpreted by this quartet, composed of an accordionist, two violinists and a guitarist.
An excellent musical interlude, a real moment of sharing and emotion.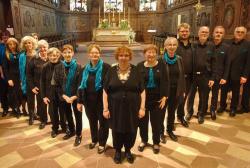 Christmas concert : ensemble vocal Mosaïques 
Sunday, 19th December 2021 - 4pm - Ste Croix Church in Kaysersberg 
This vocal ensemble is composed of about fifteen amateur singers whose repertoire offers beautifully interpreted Christmas songs (Advent, shepherds, Jesus...). Music by JS Bach, Felix Mendelssohn, Jean-Baptiste Lully...
Amazing voices, sopranos, mezzos-altos, altos, tenors and baritones-basses, under the direction of Claire Decaux, will resonate in the heart of this superb church.